COVID-19 Pantry Ministry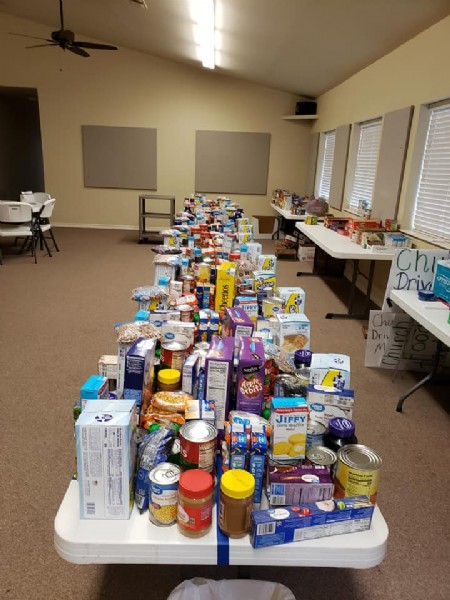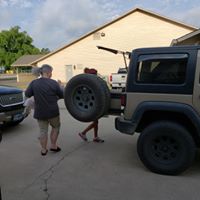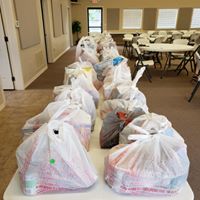 Collinsville Church of Christ Food Pantry Closed May 3, 2021
The pandemic brought many challenges to churches this year, but it was also a time of making new friends and helping others at the same time for the Collinsville Church of Christ. We have been privileged and honored to help west Grayson county during the covid-19 outbreak. Collinsville Church of Christ saw a need to open their food pantry to the surrounding small communities in the area on Monday, April 27, 2020. Since Sherman and Gainesville were the closest food banks, the members saw a great need with so many of our neighbors losing their jobs. Luckily, our county is rebounding and the demand isn't as great. May 3, 2021 will be our last day open to the public. If anyone has a need, please feel free to call the church at (903) 429-6313 on Mondays through Thursday from 9 a.m. until 2 p.m.
The church has completely funded the pantry, but we were able to get donations during the summer of 2020. Jim Barnes was able to get non-perishables from his employer, Tree House Foods. Haley Ross was able to also secure donations of ground pork during this time. During the holidays we received turkeys and ham from Lineage Logistics. Others supplying foods throughout the year are Randy Thomas, Wayne McCorkle, and Don Sperry all of Collinsville. Linda Barnes, Wendy Smith, and Danyelle Smith were willing to grocery shop for perishables such as hot dogs, milk, bread, bologna, chicken nuggets, as well as other items. Other shoppers from the church that bought other staples were Becky and Tracey Beaty, Lesa and Jeff Reed, Karen Westfall, Tommy Blackburn, Patty Roberts, Carin Patterson, Christi Light, Sally & Chico Light, Patti and Harold Achimon, Jenny Nevins, Susan Carney, Mary Jo Davis, Adell Thomson, Don and Shirley Swindle, and Charles Huddleston. These families made sure their items were always ready for the upcoming week. A special appreciation goes to the whole congregation who gave above their regular contributions to the food pantry. This ministry couldn't have been accomplished without the support of the whole church.
A crew worked every Monday to load groceries into cars as people would drive up to the fellowship hall. They also were the grocery sackers and greeted each guest with a smile. This crew included Susan Carney, Mary Jo Davis, Mary Swindle, Patty Roberts, Linda Barnes, and Laurie Davenport. One of the important challenges learned was how to open plastic sacks without licking fingers. At the height of the pandemic, more than 15 families were helped weekly. A special thanks goes out to Shannon Flannery, Kari Bailey, and Kim Patterson with the Collinsville I.S.D. who delivered to some families without transportation.
The church would like to welcome all our new friends as well as other community members to worship with us on Sundays at 9:30 a.m., 10:30 a.m., and 6:00 p.m. and Wednesday nights at 7:00 p.m. Our services can also be accessed on Facebook. We felt honored to serve you and pray together with you all during this past year. (Matthew 25:35-40)
Submitted by:
Laurie Davenport