History
History of Collinsville Church of Christ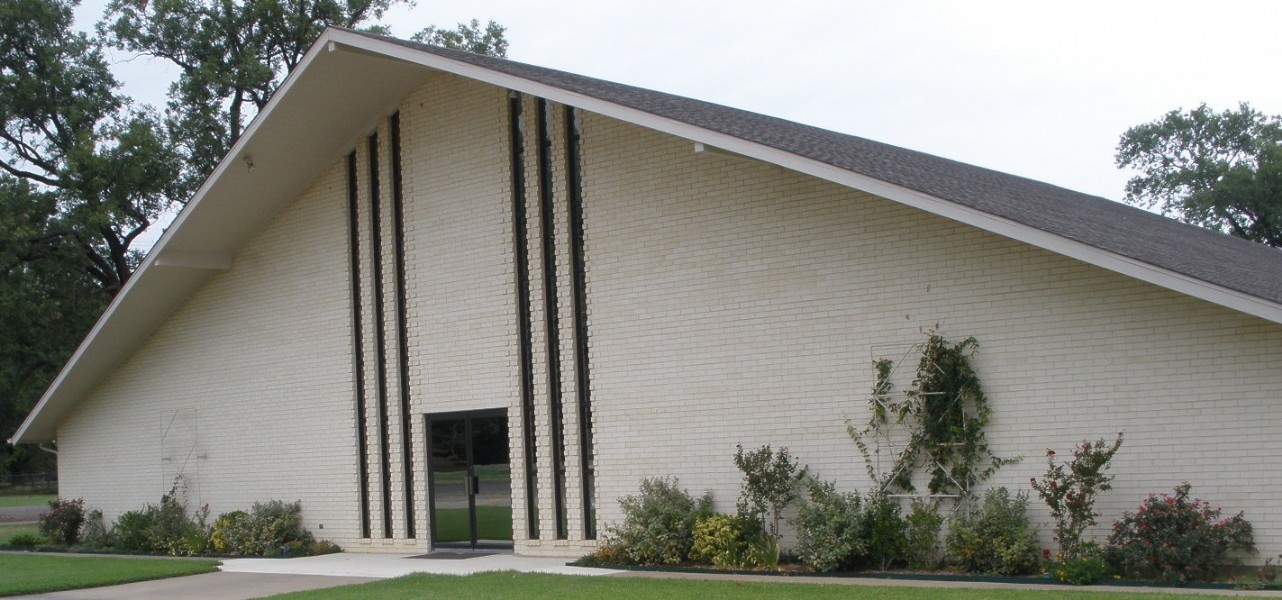 In September 1888, E.H. Rodgers came to Collinsville to preach and found a few member of the church. Among them were Jonathan Adamson and daughter, G. E. Hudspeth and family, a Brother Skaggs, and a Brother Burrow.

They were meeting with about a dozen members at the old Welch School House, located south of town. As the church had no building in Collinsville, Brother Rodgers preached for two years, once a month in the Methodist church building. The Methodist minister preached at the Church of Christ building in Tioga because the Methodist had no building there.

Brother Rodgers also preached for a time in the Collinsville Baptist church building. A Mr. Bowen, a deacon in the Baptist church, handed Brother Rodgers a key to their building and told him to use it any time the Baptist were not meeting.

Finally, after a very successful meeting was held in 1890, the elders decided to secure property and built a small building. Money was raised and property was donated by Brother G.E. Hudspeth west and across the street from the present building.

Just as the new building was being completed, lacking only painting and seating, a storm blew it to pieces. It seemed that everything was against them for it was very difficult for them to raise money for the first time, but Brother G.E. Hudspeth came to their aid with a very liberal contribution.
So they quickly rebuilt and went right on meeting and having successful meetings each year. But when the settling of Oklahoma came with the offer of free land, many members moved to that area.

One year the congregations lost 25 members including two elders. Old Brother Skaggs was killed, leaving them without a single elder. But two young men, Brother Gilbert and Brother Jeff Davis, had the courage to take the lead and did very successfully until Brother Johnson and others moved here to help them.

The little meeting house soon became too small, so another building was erected on the same site in 1914. It had stained glass windows and a bell tower in which the original bell was hung to be rung to remind the people of services. The wood work inside was very ornate with curved benches. After an addition was built to the west of the building there were four sections for seating. The building was large and would seat more than the present building. Bible classes were taught in each area and one could listen in on a better lesson when a lesson became dull. In this addition a baptistry was added in the floor and two dressing rooms were built for changing. A well was dug outside a window and water could be obtained to fill the baptistry when needed. The water was drawn in a bucket and poured in a metal trough which led through the window to the baptistry. Prior to this, converts were baptized in the Shores' tank north of town. Fifty people were baptized during a summer gospel meeting.

The church was doing well, but one day in August 1930 the building ignited from a trash fire and burned. Permission was granted to meet in the Collinsville school house until a third building could be erected. Even non-members contributed money to the new building "because they wanted their children to grow up in a community which contained churches." Even though those were Depression days enough money was contributed to erect a building debt free. The new building had three classrooms, with one of each side of the floor baptistry. In the middle 1950's two classrooms with a kitchen and restrooms were added to the south. Two additional rooms were also added. This building was used for 53 years and during that time many successful gospel meetings, Vacation Bible Schools, singing schools, weddings, and funerals were conducted.

During the 1970's the church began to grow, and it became clear that a newer building was needed. A building fund was started to which fifth Sundays and other contributions were added. Slowly the fund grew, and in 1982 the W.H. Stephenson lot was purchased across the street to the east.

Many individuals gave of their time and money to make the present building a reality. In December 1983 the first worship service was conducted in the new structure with the hope that future generations will continue to worship the Lord in Collinsville, Texas.

(Historical Presentation presented by George Henry Stephenson and Emma Lou Stephenson Voelkle as a tribute to the grandfathers, George E. Hudspeth and William Henry Stephenson.)

Since 1983 the church has continued to grow and extend its ministries. In 2011 a multipurpose building was erected to expand our fellowship with one another and to utilize opportunities to engage the community. Since then parking has been expanded, storage buildings erected and adjacent property has been purchased for future expansion. The church is on the move for the Lord and "we will work til Jesus comes!"